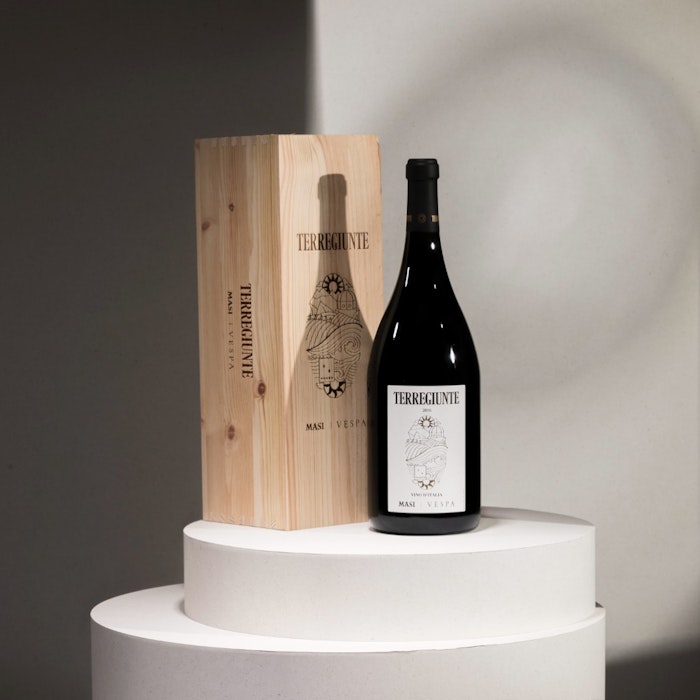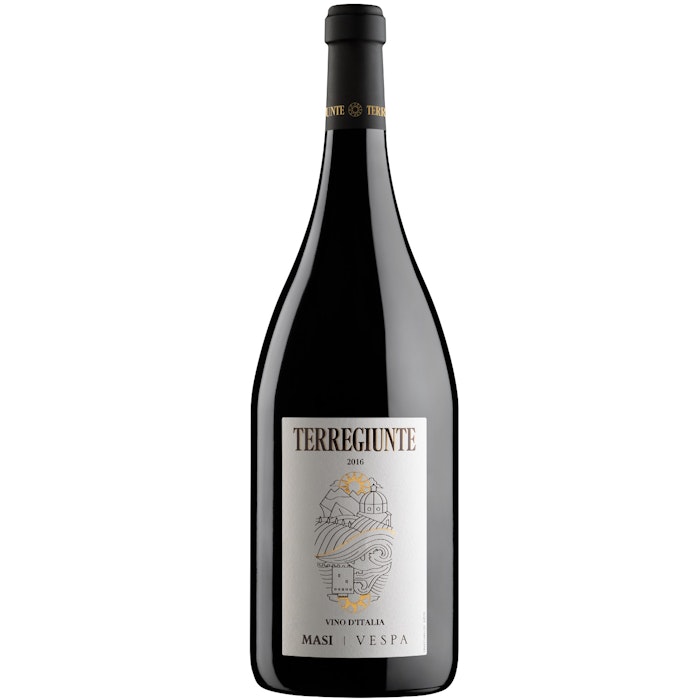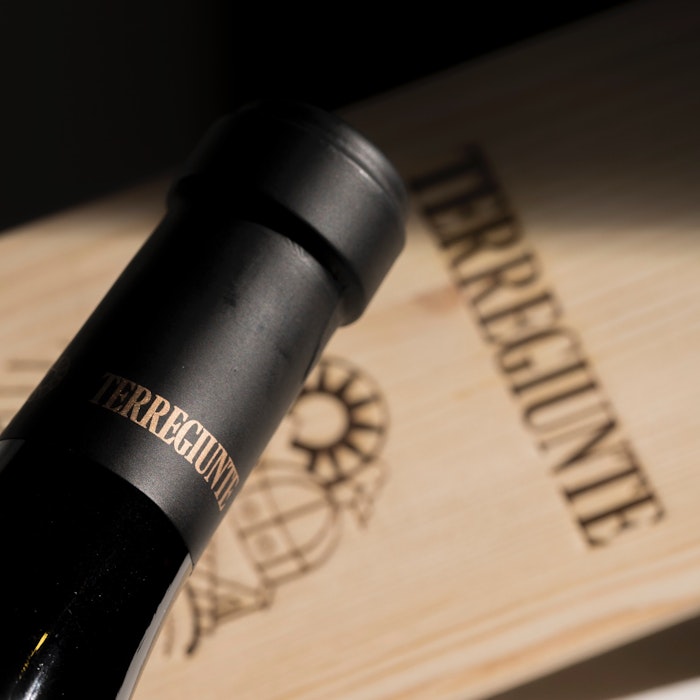 TERREGIUNTE | Vino d'Italia | MAGNUM | 1,5 l

The label is evocative already in the choice of the name Terregiunte: its meaning is of "junction", two lands that come together in an ideal embrace.
Two worlds are found in the label, two geographically opposite cultures, North and South. Two suns, calm and reserved in the north, hot and vibrant in the south, illuminate respectively the dome of Marano di Valpolicella and the Burraco Tower of Manduria, in the center the waves of the Ionian Sea blend with the hills at the foot of the Alpe.
With sensitivity and skill was produced a wine oriented exclusively to the highest quality.
An authentic "Italian Wine", an ode to Made in Italy.

TERRITORY

The hilly vineyards of Masi facing the sunset, meet the Apulian ones located at go meters above sea level.
TECHNIQUE
The grapes of Valpolicella are subjected to the ancient technique of Drying, of which Masi holds a recognized expertise; while the Apulian winemakers reduce the natural path of the ripening of grapes through the technique of "Stalk Strangulation" by favouring the withering on the plant.

VINIFICATION
After a long drying process on traditional bamboo mats, the Masi grapes are gently pressed and left to ferment in oak barrels in the natural cold
The grapes of Futura 14, on the other hand, are harvested and vinified when the drying is complete. Their wine is poured into French wood barriques where it ages for the first months before meeting Masi

THE ENCOUNTER
The fine wines of the 2016 vintage of Masi and Futura 14 meet in a prolonged aging in small oak barrels followed by a rest in the bottle, from here comes "Terregiunte"






Info
Contains Sulphites - Product of Italy
Why we like it
Terregiunte was born from the passion of Sandro Boscaini and Bruno Vespa for their respective lands, their cultures and their wines. These are territories which express highly individual styles and personalities, but which are synergetic when open to new ideas. Climates, soils and grape varieties are different and have always been regarded as far apart in terms of traditions and culture.
Here they come together to express their own nature in the context of a broader idea of Italian territory.
Sensitivity and skill have made a straightforward wine, with the focus solely on quality.
An authentic "Vino d'Italia", and a hymn to the concept of "Made in Italy".